I was recently contacted by Mark Power, who has filmed me previously as part of tourism skills course run by Dunhill Multi Education Centre.
Mark had a new concept he and a colleague Derek Walsh wanted to discuss with me, to showcase individuals who are working in local areas to bring alive the stories and traditions that give our communities their uniqueness and character.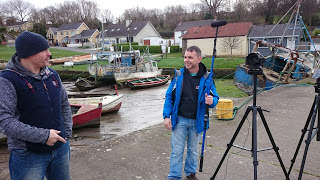 The guys at work
The series is entitled People Places and Passions and I was thrilled to be asked. Mark and Derek hope that the idea will help to enhance and develop the new tourism venture that has seen the East coast of Ireland marketed as Ireland's Ancient East.
I was blown away by the final product. You can see it too, here.
Mark prepares the drone for take off
I am open to doing pre-arranged tours. Please contact me for further details at russianside@gmail.com.
You can subscribe to my blog for free. Email me to be added.