There is a fine rectangular headstone in Faithlegg Graveyard that is very distinctive both in design and definition. On the face is etched the names of two sea captains, Edward and Samuel Grandy. The grave hints at their commercial success, but their story is a remarkable insight into the life and times of 19th century sailors, men who sailed before the mast in what some have described at the "days of wooden ships and iron men"
On a glorious sunny morning a few weeks back I chanced upon the headstone of the Captains Grandy. Whatever way the early morning light caught the carving; I spotted the word captain, and was drawn towards it. Some water poured over the limestone allowed the sun to illuminate it further and a month of research was born.
The information although brief was interesting and a bit sad. Edward Grandy died 18th April 1844 aged 40. His older brother Samuel died just over two years later on August 28th 1846 aged 54. On the side Samuels wife is inscribed and other family.
So what have I found out so far about the sailors. Well Edward Grandy married a Ms Eliza Walsh in 1830. Edward was then 26 years old and master of the Frances Mary, a New Brunswick registered Bark of 372 ton. The ships was owned by a P Morris. I am speculating that he was involved in the normal runs including emigration and timber freight on his return. On one such trip 19th Dec 1830 the Frances (and) Mary was recorded at Passage East following arrival from Quebec with timber, deals and staves.
In 1838, he was master and ¼ owner of the Juverna. The Juverna was barque of 311 ton, built in Whites shipyard of Waterford. The White family held the majority shares in the vessel. In 1839 there is a mention of the vessel plying the South East Asia trade bringing coal to India. (I found mentions of the ship at Bombay, Kedgeree and Singapore) The New Commercial Directory for the Cities Of Waterford and Kilkenny, Towns Of Clonmel, Carrick-on-Suir, New Ross and Carlow 1839 stated that at that point his shore address was 4 Sion Row, Ferrybank, Waterford. Tragically, his wife Eliza died in Bombay I understand, presumably having sailed with him on this ship. However, I have no further details. Their son and daughter were taken in by Eliza's sister Mary Power of New Ross.
In 1843, on a return trip with a cargo of sugar from Mauritius the Juverna was badly damaged after sailing into a hurricane. Although her destination was Liverpool, the Juverna returned to her home port of Waterford. Most probably to have repairs made and was described in the papers as without rudder or sails. (Contemporary newspaper reports tell of a storm of such violence that 18 vessels were lost). Bill Irish stated that the repairs cost over £2000. When the Juverna put to sea again in August 1843, Edward Grandy was not at the helm. I am speculating that he was badly hurt on what to have proven to be his final journey.
The local papers reported on his death in April. "On Thursday Morning last, at the residence of his brother, Captain Samuel Grandy, Captain Edward Grandy, aged 41 – a sincere and edifying convert to the Catholic faith. He had been a protestant until his illness, during which he was attended by that esteemed clergyman, the Rev T Dowley, St John's College, and was by him brought into the fold of the one Shepard"
Samuel was the older brother and he married Margaret White in Waterford in 1821. The first ship I can find that he captained was the Three Sisters, a schooner of 144 tons, Quebec registered and owned by the Waterford merchant family of Pope & Co.
The Three Sisters arrived at Waterford city on Sunday 12th August 1832 from St John's Newfoundland. John Smithers the local Comptroller of Customs, Lieutenant Shaw and the officers of the coast guard proceeded to board the vessel and conducted a search for contraband. The following was found in a variety of parts of the ship:
"13lbs. of tea and a jar of Cognac brandy, containing 3 quarts, covered over with empty bottles—two loaves of sugar, 28 lbs. of raw ditto, and 31 bottles of wine—a cask of rum, measuring 17 gallons, covered over with a large quantity of old sails, etc., keg containing about 3 quarts of rum—a firkin of foreign butter, and 2 barrels foreign pork…the officers then proceeded to Captain Grandy's house, Hanover-street, which is very short distance from where the vessel lay in the river, and they found on searching the house, 5 gallons of brandy, 24lbs. of manufactured tobacco, 32lbs. of black tea, 3lbs. of green ditto, and 3lbs, of sugar, all of which were brought to, and lodged in the Custom House Stores."

Waterford Mail – Wednesday 22 August 1832; page 4
The mate and two ships boys, the only persons on board the schooner were arrested and thrown into jail. On Monday Samuel turned himself in and joined his crew in a jail cell. He posted bail of £100 which was lodged with the mayor. At a subsequent trial he was fined the same, which if he agreed to pay, further charges would be dropped. The crew didn't get a mention. But a chap named Mackey, a passenger of Grandy's returning home to Clonmel, Co Tipperary, was also in court. He had been captured on the quay with pockets stuffed with undeclared tobacco!
In April of 1833, The Waterford Mail reported that two Grandy's were masters of two vessels leaving the port with emigrants. On the 12th of April Three Sisters departed for Newfoundland, while on the 15th the City of Waterford sailed for Quebec. Samuel was most probably the skipper of the first vessel but more on skipper of the City of Waterford later.
In 1841 we learn from another newspaper account of the loss of the Irish Lass which was launched from the "Waterford Dockyard" in March 1835. The account tells us that at 11pm pm on the night of the 31st March (1841) the Irish Lass grounded on a sand bank off the coast of Uruguay. By 3am the ship was being savagely pounded and the decision was taken to abandon ship. The ships long boat was launched and rowing through mountainous seas the crew made it ashore. They had nothing but the clothes on their back, and then trekked over 100 miles of desert to Riogrande. They subsequently took a ship to Monte Video and from there to England by the first departing ship.
Samuel was now without a ship and the next time I encountered him, he was attending a meeting in Waterford in February of 1842, the intention being to set up a rival to the Waterford New Ross steamer, Shamrock. Samuel is elected to the organising committee, and when the Paddle Steamer (PS) Maid of Erin starts plying the waters, none other than Samuel is aboard as captain. In the narrow confines of the rivers and the stress and strain of landing passengers and freight in competition with another vessel, tempers flared and bust ups were common. Samuel didn't shirk from the fray! Here's an example from a recent story from Kathleen Moore Walsh.
As we have seen his brother Edward died at Samuel's home in 1844.  The next mention I have is of him being back on the high seas in 1845.  The strange thing is that the ship is listed on Lloyds register as being owned by an E Grandy and skippered by same. On June 20th 1846, the Bark(sic) President, under Captain Samuel Grandy was cleared for New Ross from Quebec.  It was his last journey.  He died at home on August 28th. 
In December of 1846 the President was put up for sale at Waterford. Her next listing at Lloyds (1847) show her as still owned by E Grandy but under a Captain Melhuish. In 1851, the same master is aboard, but ownership has transferred to H Eaton. Not a name I have come across as associated with Waterford as yet. Margaret Grandy, opened a ships provisioning store in King St (The town side of what is now O'Connell St) in December after Samuel's death. Presumably because she needed an income to sustain her family.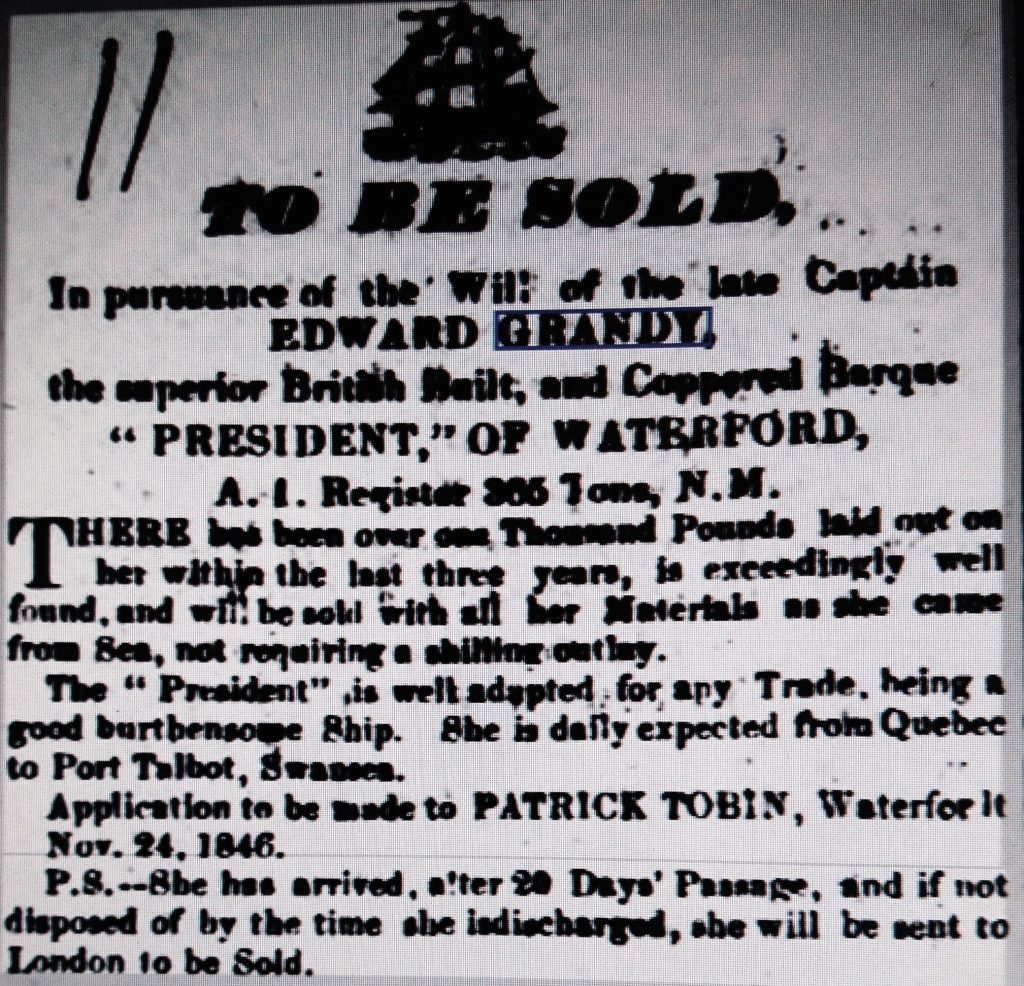 The connection with Faithlegg I have yet to establish, but a number of Whites are buried in the adjoining area. And one other mystery that I have yet to unravel is that there was another Captain Grandy – Thomas. He was master of the previously mentioned City of Waterford. He was heavily involved in the Waterford to Quebec trade between 1826-1837 when it appears he retired ashore at Quebec and became a successful merchant. Could it be a third Grandy brother?
The finding of the grave on June 1st has opened a whole new chapter on my understanding of Waterfords dynamic trade and traders of the early 19th Century. The sheer breath of trade and the conditions these seafarers endured makes for grim reading. For these were men who endured with stoicism the vagaries of wind and weather, shipwreck and personal tragedy as they sailed the ocean waves. They certainly were Iron men.
I'm conscious that even after a month of research in all my spare time, many questions remain and significant gaps in my understanding of the family remains. I'd like to thank Joe Falvey, Brendan Grogan, Michael Farrell, Kathleen Moore Walsh and in particular Jim Doherty for assistance with the piece. Thanks also to Ivan Fitzgerald for some follow up on Margaret Grandy which I had not space to include. As ever, all the errors and inaccuracies are my own. If you have any further info on the brothers, their family origins or their ships I'd be delighted to hear it in the comments or by email to tidesntales@gmail.com.