To support our local lifeboat station at Dunmore East my brother Robert and I rowed the river Suir this year – an estimated 25 miles. If you would like to support our efforts here's the link to make a financial contribution. All donations go to the RNLI. When I wrote the first day's account and published the blog update, we stood at €490. But before we set off on Sunday the donations were flowing in and as this update goes to print we have just over €800 online. We have postal and hand-delivered envelopes still arriving to add to our bucket collection, and Brian Power in the Cheekpoint Stores asked us to leave the sponsorship card in the shop until later this week, so we will update here once we have the full figure. – Update as of 17/5/2023 Just updated the online with bucket collection which incl postal donations and sales of strawberry plants by Robert. This came to €336. Update 18/5/2023. We just updated the site with the generous sponsorship from Powers Shop Cheekpoint – the figure raised there was €320. Thank you one and all. The figure now stands at €1,476. Update of June 2nd 2023. We reached the grand total of €1,571. While team Dunmore made the combined total €5,124. What a great achievement by the whole team. Many thanks to all who sponsored the events…Here's to next year.
It's terrible to be getting old. For the past two years, we completed the Mayday Mile by walking from Cheekpoint to Dunmore by cliff and shore. But as we both now have problems with arthritis, this year we thought a boat trip might be easier – on our joints I mean.
Now rowing a boat provides a two-fold challenge. As a person, It takes a certain amount of skill, knowledge, and resilience. But more importantly, you are also at the mercy of the river and the weather. The notion of this appeals to me. People talk about respecting the water – which to some simply means wearing a life jacket. But the river is a living entity, it breathes life, it changes in an instant and its tides and currents ebb and flow on their agenda – an agenda set down by natural rhythms, cosmic forces, and weather. There are also rocks, mud banks, sand bars, and man-made impediments. With motor power you can bend the river to your will…when you row, you must show it the utmost respect and attention in order to reach your destination. So we are channeling the spirits of all the past generations of river folk, fishermen, and lightermen who worked these waters and had a deep connection with it.
What follows is a photo diary of the journey. Day one was a glorious sunny day, very warm, but we battled a strong breeze that was against us until we got to Mount Congreve. Day two was cooler, with a northerly breeze, that helped us no end.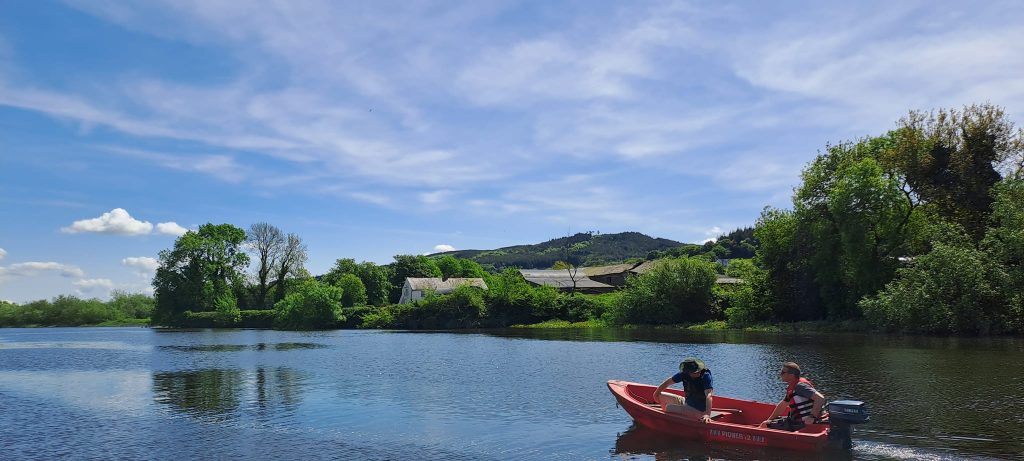 Day two – a cooler day with northerly winds. We said we would wait until 3pm to depart as it gave the rain a chance to clear and the ebb tide to start flowing. We had a lovely send off from the city pontoons, with family and friends. Although our minds are willing our bodies are aching – so the encouragement is all the more welcome. A darker day, so although I had more time for photos, I didn't get as many.
I'm indebted to my brother Robert for helping me with this…I can't think of anyone else who would be up to the task or have the patience to listen to me. Thanks to Conor Power of Carrick for the assistance and support, and in particular his knowledge of the snap net fishery. Brian White for the wonderful discussion about placenames, history, and nature. To Maurice Power who helped me arrange the Carrick layover and was so generous with his advice on the trip and our itinerary. My thanks to Brian and Daniel Power who allowed us to put a sponsorship card in the local shop, and Bridgid who went out of her way too to promote it. To Carol McGeary who helped with the online donation page and so much more to help to promote the fundraiser. Thanks to Johhny Codd at Waterford for looking after us on the layover. To David Carroll who provided two guest blogs to promote the row, and the Mayday Mile. To Pat Moran, with who we would not have made it at all. He helped to get the punt out of the water and towed it to Carrick for the trip. Finally to everyone who sponsored the trip, which although a personal challenge, it was really about raising money for the RNLI. We owe the lifeboats a great deal, this is our small contribution to such a worthy cause. Much obliged to you all.