My normal blog generally follows a predictable theme of heritage or history concerning Waterford Harbour. However, although this post concerns heritage, which will become clear at the end, it also celebrates volunteers, our youth and decries the condition of our environment.
The Strand in all its glory, at Ryans Quay
On Saturday 21st May, the Cheekpoint & Faithlegg Development Group organised a clean up of our local strand. I had been asked to fill out the forms and in our own limited way with Russianside Tours, assist to promote it. It was done in conjunction with National Clean Coasts Week, an event hosted by An Taisce's Clean Coast team, to bring attention and activity to the litter problem in our rivers, seas and oceans.
Cheekpoint is in a stunning location. But in a way it is a double edged sword. One the one hand we stand overlooking the meeting place of the three sister river network, the Barrow, Nore and Suir, and we steer the rivers on their final journey out of Waterford harbour to the sea, Stunning as I say. But our location means that the waste of the major towns on those waters, and to a lesser extent our fishing industry, washes up on our strand with each new high water. Not alone is this bad for us, but we have so much wildlife to think of, over-winterers such as Brent Geese or Godwit or locals such seal, porpoise, eel etc. And of course our particular favourites a family of Otter that seem to breed on the Strand and where we have seen their young on so many occasions these last few years.
"Youthful" enthusiasm
The feedback to the event was pretty disheartening. Not a lot of likes, comments or shares on social media. One person said to me, why bother, shur they're throwing bag fulls of rubbish off the quays at night. Another, indirectly, ridiculed the idea saying that whatever we picked up, with be back on the next incoming tide! And to be frank, although I realise both points to be true, can we just throw up our hands and ignore it.
Fiona "caught the train"
On Saturday, the day dawned bright and breezy. Met Eireann warned of the risk of thunder showers. Several hardened campaigners who have cut rights of way and removed builders waste in all kinds of weather had to bow out. May is a busy month, but which one isn't. People have family commitments, had to work, had something more important to do. I understand that, I've been in the same place myself. So at the allotted time it came as a relief to see people starting to gather, and in all we had 19 souls along. We had planned to clean from the Mark to the Point Light, but eventually managed to reach Ryan's Quay and collect 38 bags of rubbish. In completing the survey of litter found, the most frequent was food packaging, followed by plastic bottles and fishing/boating waste such as netting, ropes, twines.
Oddest find perhaps, thanks Anna
Of our volunteers, 9 adults, 6 female, 3 male, and 9 young people, 7 female, 2 male. To be honest I found the spirit, joy and sheer fun of our younger volunteers so refreshing. The work was turned into a game. there was lots of joyful laughter, some very interesting conversations, opportunities to explain about the placenames and just a bit more fun. When we finished, our daughter Ellen provided some home baked treats and sweets to a willing audience and I think it was with regret that our younger members turned for home.
39 bags and 19 volunteers (minus a shy John O'Sullivan ;))
And the heritage value; well it was Sunday night before I could get back down to the Strand. Three high waters had passed, and there was little more than a handful of plastic wrapping washed in. Walking along, it suddenly struck me that this is how the Strand had looked for thousands of years. All those centuries where what man made was from natural fibers and would simply rot away. It was also an era when what washed up, was eagerly beachcombed and brought home. For generations we grew our own food, or took our salmon from the river, not plastic packaged, chemically fed, and Chilean grown. Even the fishermen of old were working with bio degradable materials. Netting and ropes made from hemp, then cotton. Ropes and twines of hemp, and floats made from cork. But then in the late 50's early 60's nylon became fashionable, followed by gut net, followed by Monofiliment. Great improvements for fishermen, but materials that will still be around many generations after we have stopped being remembered.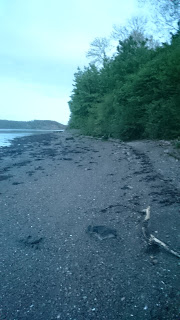 As nature intended, last night
So could I invite you down to walk on the strand at the moment. In doing so you are actively participating in a heritage experience. How our rivers, seas and oceans looked before an oil saturated, commercially driven and wholly unsustainable era took hold. A clean and litter free strand, at least to Ryans Quay. One I would be proud to share with anyone at the moment, especially our friends the otters.
You can get involved in Clean Coasts in many ways, check out their website for more http://cleancoasts.org/our-initiatives/
I publish a blog each Friday. If you like this piece or have an interest in local history, heritage, Waterford harbour and environs you can email me to request to be added to my email list russianside@gmail.com. Other ways to connect are:
Follow the blog from the main page, like us on facebook at www.facebook.com/russiansidetours
on Twitter @russiansidetour or our web page – www.russiansidetours.com
Every blog I have written is gathered together in one spot at www.pinterest.com/russiansidetour