David Carroll, author of Dauntless Courage, and a regular and ever-popular guest blogger with the page, brings us the story of Waterford sea Captain Tom Donohue who died on this day in 1949.
When Captain Tom Donohue, a fifty-nine-year-old native of Dungarvan, and the most renowned member of its maritime community, took command of the MV Kerlogue of Wexford in late 1943, he was no stranger to the shocking violence encountered at sea in World War ΙΙ and very much aware that neutrality was no safeguard for Irish seafarers.
The MV Kerlogue (335 tons) was built in Rotterdam in 1939, just prior to the outbreak of World War II for the Wexford Steamship Company. By late 1943, the neutral Kerlogue had been attacked by both sides as well as saving the crew of a Liverpool collier. As we shall read, she would go on to take part in one of most amazing and dramatic rescue operations of World War ΙΙ.
Back in 1941, Captain Donohue was in command of the Lady Belle of Dungarvan. Built in 1900, by J Fullerton & Co. at Paisley in Scotland, the Lady Belle was 140 ft in length, 24 ft beam, and had a cargo capacity of about 330 tons. She had been purchased by the Moloney Steamship Company of Dungarvan in 1925.
On March 26th, 1941, the Lady Belle was attacked from the air by the Luftwaffe while on a voyage from Dungarvan to Cardiff to collect a cargo of coal for her owners, A Moloney & Sons Ltd., Dungarvan. Ten miles SE of the Smalls, at the entrance to the Bristol Channel, she became the target of one of the many marauding German planes that pillaged the British coast. Although severely damaged, she made it to Milford Haven, under her own steam in a crippled condition. The crew was uninjured. She was sold soon after to Sheehan and Sullivan of Cork.
The Lady Belle is still fondly remembered in the folklore and maritime heritage of Dungarvan. It also gives it name to a well-known pub, located in Grattan Square, Dungarvan.
On October 7th 1941, while sailing from Port Talbot in Wales to Rosslare, MV Kerlogue was damaged by a mine but survived. Earlier in that same year, on April 2nd, a British convoy was attacked by German bombers. Distress signals were seen by the Kerlogue, which altered course and went to aid of the disabled Wild Rose, a collier from Liverpool. The crew members were rescued and the Kerlogue managed to tow the Wild Rose and beach her on the strand at Rosslare.
In May 1943, Tom Donohue was serving on the SS Irish Oak, homeward bound from Tampa, Florida to Dublin with a cargo of 8,000 tons of phosphate fertiliser. At 08.19hrs on May 15th, when 700 miles west of Ireland, she was torpedoed and sunk without warning by
a then-unknown German submarine. Later it transpired that the identity of the submarine was U-608. Another submarine U-650 had encountered the Irish Oak on the previous day. The Irish Plane, the Irish Rose, and the Irish Ash responded to the SOS. The full crew of survivors was located by the Irish Plane, having spent eight hours in lifeboats and were landed at Cobh on May 19th.
May 1943 saw the greatest losses suffered by U-boats up to that time, with 41 being destroyed during the month- 25% of the operational U-boats. On May 24th, the German Naval Commander Karl Dönitz ordered a temporary halt to the U-boat campaign. Sadly, for the Irish Oak, this withdrawal had come too late.
Later that year, on October 23rd, 1943, 130 miles south of Ireland, on passage to Lisbon with a cargo of coal, MV Kerlogue was circled by a Royal Australian Air Force (RAAF) Sunderland flying boat. Three hours later, she was attacked by two unidentified aircraft for over twenty minutes. Another RAAF Sunderland came on the scene and the Kerlogue signaled, requesting an escort and medical assistance. The Sunderland replied that help could not be given. The severely damaged Kerlogue limped back to Cobh, where it was found that the cargo of coal had saved her; without it, the shells would have penetrated the hull. The ammunition fragments were found to be of British origin. The identity of the attackers remained a secret until the thirty-year rule released Air Ministry documents into the Public Records Office at Kew, London.1 The aircraft were found to have been Mosquito fighters of No 307 Polish Night Fighter Squadron.
The Master of the Kerlogue on that voyage, Captain Desmond Fortune had both his legs fractured. The attack left Captain Fortune relying on crutches and suffering from wounds he received for the rest of his life. Second Officer Samuel Owens had shrapnel fragments in his chest and John Boyce of Rosslare and Jim Carty of Wexford were also injured.
The Kerlogue was repaired in Cork and on December 27th, 1943, with Captain Tom Donohue now in command, departed from Lisbon homeward bound to Dublin with a cargo of oranges.
All hopes that the Captain and crew had of having a trouble-free voyage were soon dashed. At first light on December 29th, the Irish vessel was in a position some 360 miles equidistant south of Fastnet and west of Brest, was repeatedly circled by a German aircraft signaling an SOS, and that help was required in a south-easterly direction. Kerlogue altered course and after two hours steaming came upon the most appalling aftermath of naval warfare from the previous day.
The German Narvik-class destroyer Z27 and two Elbing class torpedo boats, T25 and T26, had been sunk. More than seven hundred men, most of them dead, were in the water. The sea all around the Kerlogue was covered with men floating on rafts, on the wreckage, and in lifejackets.
These sailors had intended to escort Alsterufer, a German blockade runner, which was on a voyage from Kobe, Japan to occupied France with a cargo of rubber and other strategic war materials. The Admiralty in London had mounted 'Operation Stonewall' to intercept blockade runners and the cruisers HMS Glasgow and HMS Enterprise sailed from Plymouth to intercept her. An intense naval battle took place in the Bay of Biscay and in the action the two British cruisers, despite being outnumbered, sank the German ships with their 6-inch guns. Unknown to them, Alsterufer had been set on fire by a Liberator aircraft of 311 Squadron, RAF, and sunk on the previous day, December 27th.
"As rafts rose into view on the crests of the giant waves, we could see men on them and others clinging to their sides. At first, we did not know whether they were Allied or Axis until somebody noticed the long ribbons trailing downwards from behind a seaman's cap which denoted that they were German Navy men." 2
Captain Frank Forde in his excellent book, 'The Long Watch: World War ΙΙ and the Irish Mercantile Marine', graphically describes the action:
"For ten hours the rescue work continued, Kerlogue moving from group to group, dragging exhausted men, many ill-clad and suffering from exposure, on board. Cabins, storerooms, and alleyways were soon packed with shivering, soaked and sodden men; others were placed in the engine-room where it became so crowded that Chief Engineer Eric Giggins could not move around to tend his machinery, and so by signs – as none spoke English- he got the survivors to move the instruments he could not reach. Fourteen men were packed into the tiny wheelhouse, leaving the helmsman, Able Seaman Thomas Grannell of Wexford, barely room to steer. Captain Donohue had the most seriously injured placed in his cabin, and assisted by Third Officer, Garret Roche, began first-aid treatment. It was a hopeless task; there was no doctor on board, or amongst the Germans, and medical supplies were totally inadequate for the numerous injured. One man was burned from head to foot and though conscious when taken on board, died a few hours later. Another two died during the night. It began to grow dark about 4pm, but the rescue work continued by floodlight until 9pm when, with 168 survivors on board, Captain Donohue turned north for Ireland."
Lieutenant-Commander Joachim Quedenfelt was the senior German Officer that was rescued. He was in command of the 1,300-ton torpedo destroyer T26. Out of a crew of 206, Kerlogue picked up 93 from this vessel. The German Officer described how after a night on a raft, he watched the next morning "the little ship bravely moving through enormous waves to pick up more and more of my comrades." 3.
Lieutenant-Commander Quedenfelt requested that the ship sail to La Rochelle or Brest in France to land his men. Captain Donohue steadfastly refused, which was a very brave act when you consider the Germans outnumbered the Irish crew.
A roll call and inspection of the survivors after their first night aboard Kerlogue disclosed that three sailors had died. During the afternoon of December 30th, the Kerlogue stopped and the sailors were buried at sea. Subsequently, another wounded sailor died but it was decided to retain his body on board for burial in Ireland.
Under the terms of the navicert issued to Captain Donohue by the British Naval Authorities at the beginning of the voyage, he should have headed to Fishguard for examination and clearance before proceeding to Dublin. (The navicert was a permit given to neutral ships by the British Authorities that required them to call at a designated UK port for examination and clearance on both outward and homeward legs of their voyages from Ireland.) Because of the condition of the survivors and shortage of supplies, Captain Donohue headed for Cork, the nearest Irish port.
The Kerlogue maintained radio silence for fear of drawing attention to its destination. As luck would have it, the cargo of oranges proved to be valuable in sustaining the German sailors on the voyage and preventing dehydration. To avoid being spotted by Allied planes, the sailors were kept out of sight below decks during daylight hours, only coming on deck for fresh air at night.
At 22.00hrs on December 31st, when about 30 miles south of Fastnet, Kerlogue, broke radio silence and advised Valentia radio of their position and that they had 164 survivors on board, seven of them seriously wounded and one dead body. They requested medical aid on arrival. Valentia acknowledged the message and signed off with 'Well done, Kerlogue'. Fifteen minutes later, Land's End Radio in Cornwall broadcast a message, which was repeated every fifteen minutes, instructing Kerlogue to proceed to Fishguard as required by the conditions of her navicert. This order was ignored by Captain Donohue, who acted in the tradition of Admiral Nelson's 'blind eye' and switched off his radio receiver.
Captain Donohue described the homecoming as follows:
"At 10 am on Saturday, New Year's Day 1944, we stopped off at Roche's Point. Doctors boarded the vessel and sent some of the survivors ashore. I then proceeded into the harbour and docked at the deep-water quay in Cobh. I was boarded by the ship's owners together with Naval, Military, and Red Cross people as well as some people of Cobh. The wounded men were removed ashore together with all other survivors. The crew and me went to the hotel for a good wash, food, and, needless to say, sleep. I had all the beds and bedding removed from the Kerlogue. Crew's quarters cleaned, washed, and fumigated by shore people. We left Cobh on Sunday, January 2, shortly after 4 pm bound for Fishguard for examination." 4.
The German sailors were taken to Collins Barracks, Cork, where one of the wounded, Petty Officer Helmut Weiss, died from burns. Along with Lieut. Braatz, who had died at sea, the two sailors were buried in Cobh but re-interred later in the German War Cemetery at Glencree, Co Wicklow. Once the other sailors were declared fit, they were transferred to the Curragh Internment Camp for the duration of the war.
When Kerlogue reached Fishguard, to obtain her clearance, Captain Donohue underwent what he described in the newspaper article by Tom Tobin, as 'his most trying experience of all'. The senior British naval officer raged at Captain Donohue for not bringing the Germans to the Welsh port and threatened to withdraw the ship's navicert. It was described as an ugly scene as the irate Dungarvan man, flushed with anger, reminded the shouting bully that his only concern was to save life. It was to the credit of the other Royal Navy officers listening, that they apologised for this ill-mannered outburst. 5
The Kerlogue eventually docked in Dublin on January 5th, 1944. A letter from Dr. Eduard Hempel, German Minister to Ireland, was delivered to Captain Donohue. In it, he expressed, 'To you and your crew my profound gratitude as well as my high appreciation of the unhesitating valiant spirit which has prompted you to perform this exemplary deed, worthy of the great tradition of Irish gallantry and humanity. I hope to make your personal acquaintance soon.' 6 Later, Dr. Hempel presented a solid silver cup to Captain Donohue with smaller replicas for each of the other members of the crew on behalf of the German Government.
Captain Tom Donohue died on December 2nd, 1949, and is buried on the grounds of Abbeyside Church near Dungarvan. John Young, the recently deceased Dungarvan maritime historian, previously remarked on how poignant it is that he was buried in a site that is only fifty yards from the sea.
In 1994, a Commemorative Service was held in Abbeyside Church to mark the 50th anniversary of the rescue. A wreath was laid on the grave of Captain Donohue and the ceremony was attended by members and relatives of his family, survivors, Naval and Diplomatic personnel, and Public Representatives.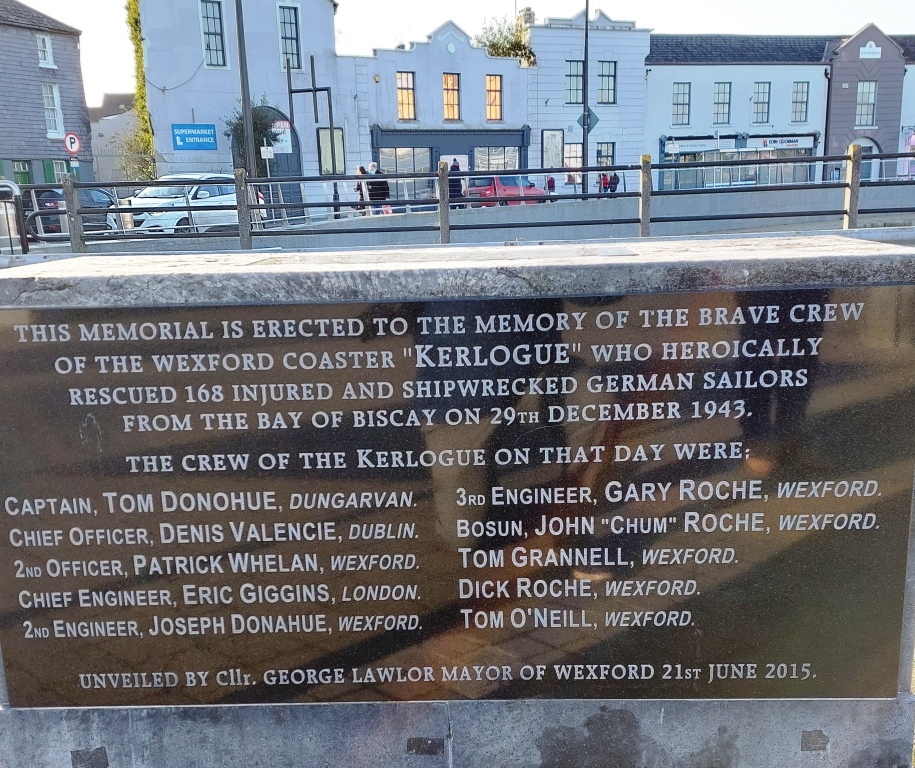 In 2015, a memorial was unveiled at Crescent Quay, Wexford to honour the ten men who risked their own lives in December 1943 to save the lives of others, responding to the age-long code of the sea- help a fellow seaman in distress.
Bibliography:
The Long Watch by Captain Frank Forde, Gill, and Macmillan, 1981
'The Kerlogue Incident' by Patrick Sweeney, Maritime Journal of Ireland, Spring 1994, No. 31
A Maritime and General History of Dungarvan 1690-1978 by John Young
'Why oranges were scarce that 1943 Christmas'. Newspaper article by Tom Tobin. Kindly made available by Waterford County Museum.

References:
1 The Long Watch, page 118.
2 The Long Watch, pages 119 /120. Words spoken by Chief Officer, Denis Valencie
3 The Long Watch, page 121.
4 'Why oranges were scarce that 1943 Christmas'. By Tom Tobin
5 The Long Watch, page 123.
6 Ibid.
Many thanks to Brian Ellis, Honorary Librarian, National Maritime Museum, and Willie Fraher and staff of Waterford County Museum for their assistance with this article.
A model of MV Kerlogue and other interesting information is on display at the National Maritime Museum, Haigh Terrace, Dún Laoghaire.