This months guest blog is by Joe Falvey another long time supporter of the blog and a writer of many excellent articles about our local history.  This months piece is a fine gathering of historical facts and anecdotes based around the visit of the Kennedys to Woodstown in 1967 and was written as a tribute originally on the death of JFK Jnr in 1999.  So journey back with us this morning to a rural Waterford of a very different era.  I'm sure you will enjoy it.
Like most of the world, I first heard of Woodstown, this quiet, quaint and charmingly beautiful place during the late spring and early Summer of 1967. I first visited Ardmore that same summer, careful not to stray too far from the Cork border. Apart from a vague knowledge of Tramore's existence, I had no other knowledge of Waterford. Yet from the time it was first announced in mid-April of that year that
Jackie Kennedy
, then the most famous and glamorous woman in the world, was going to holiday there with her children,
John-John
and
Caroline
, the name and images of Woodstown became engraved in my memory. Little did I realise then that I would end up living just a few miles from there and that it would become one of our favourite family places in all of its seasonal phases-its sylvan dressed beauty and sea-kissed tranquility.
Jackie and children riding out, photo via Pat Coghlan
The place has thus quietly lured many to reside or visit there over the years. The tragic death of that fondly remembered young boy, who grew to be a handsome, much admired man of the world struck a particular heart-felt chord of anguish among Woodstown's residents who so proudly welcomed this remarkable family into their midst. Memories came tumbling back for so many.
I went for a stroll there on the day of his funeral seeking to recall those days of innocence and hope and to remember also other tragedies that are strewn across life's path but this family have had their share.
As word spread that the Kennedy's were coming on holidays to Woodstown for six weeks, a huge press corps descended on this quiet secluded resort and the views of the locals were canvassed and cast onto the world stage of the media. This was but three and a half years after the assassination of the President in Dallas, so a sense of poignancy was interwoven with a sense of local pride. This pride was matched by pragmatic optimism that such startling news would put the place on the map and that proper amenities, like public toilets, car parks and road access would be provided and indeed, great inroads were made in that direction.
The late and much respected William (Bill) Coghlan was chairman of the local Development Association at the time. The media coverage made much reference to the only local hostelry- The Saratoga – owned and run by Bill and his wife Adi. Jack Donnelly, the postman, echoed the sentiment of many at the time: " Sure, isn't it a pity that the great man himself isn't coming."
There was a gentle touch of clerical rivalry between the local churches with Fr. Phelan of Crooke quietly confident that the visitors would be attending his church, while Fr. Leahy of Killea was offering his Céad Míle Fáilte pointing out that his church was in fact closer.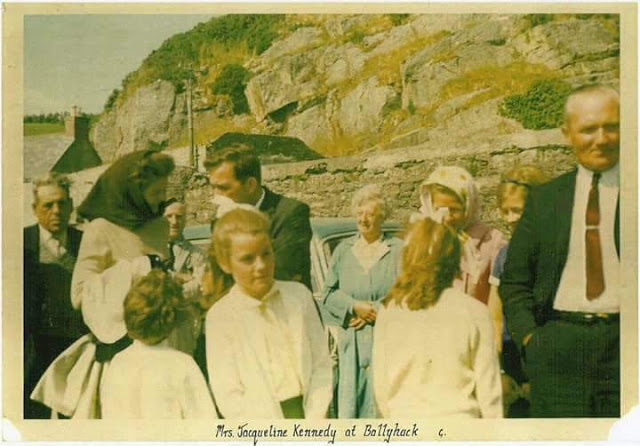 The Kennedys visit to Ballyhack, Co Wexford, courtesy of Niamh Kehoe
The children of the area had simpler dreams and welcomed John-John and Caroline as playmates and cherished hopes that they would join in with their summer games of skipping and sandcastles. Ita and and Conor Coghlan, Grace and Judith Cooke were much photographed as likely playmates. Mrs Bridget Morrissey and her children were equally anticipating the great occasion. She had run a sweet shop opposite the main gates to Woodstown House, en route to the beach, for many years. She was adamant that John-John and Caroline would be most welcome like any other children who came to visit the safe and sandy beach at Woodstown. And indeed, when they came they proved to be just that, innocent, well-mannered charming children, despite the aura of wealth, beauty and glamour associated with their famous parents.
A telling anecdote recounted to me by Tony Walsh (Tap Room- Ballybricken) of the time he assisted his sister in the beach shop at the other end of Woodstown. (leased from Mrs Phelan). His special memory was of John-John coming up to him at the shop to buy sweets and things. On a few occasions he recalls the lad enquiring as to the price of a coveted choc-ice but reluctantly settling for an ordinary ice pop on realising that his pocket money wouldn't stretch to such a luxury! Another day he bought after much consideration a cap gun but returning the following day with it as it was not working to his satisfaction and wondering if Tony could fix it and if not could he have his money back! Tony won't sell you a choc-ice or cap gun today but you are guaranteed a great pint.
The weather was truly welcoming that June and hundreds of people flocked to greet and observe the famous visitors. The place was initially agog with excitement and the media (local, national and international) got their stories and pictures which bulked the Sunday editions in particular. The Saratoga was a gathering point for the media people but the fact it did not have a public telephone nor was there any elsewhere in the area presented a challenge to the men of the press, I've been told by a journalist who was assigned to that story, but nevertheless, obviously managed to get their stories out- 'By Hook or by Crooke'. However, after a while people generally withdrew and gave the family the privacy they needed and deserved. People like the Russell family, Philip, Ken and Sandra have their own memories of playing with John-John and Caroline, has have others. Many of the press photographs showed Jackie and the children out riding and there was no shortage of equine offers.
Jackie's horse, in particular, was lent by Mr. Don O'Neill-Flanagan for the duration of the holidays. Indeed, it was he who was involved in the family coming to the area. He was acquainted with Mr
Murray McDonnell
, a wealthy Irish-American, who had rented Woodstown House for the summer from its then owner,
Major Cholmeley Harrison
(a London stockbroker). Mr. Murray McDonnell then invited Jackie Kennedy and her children to join him, his wife and children on this holiday. The estate manager was Peter Cook and he, along with his wife quickly swung into action to make all the necessary preparations. Mrs. Kathleen Mahoney was the Housekeeper and along with Mrs. Alice Keane knew there was a big challenge ahead and were well equal to the task.
A boat trip at Dunmore.  Photo courtesy of blog regular David Carroll and via Michael Farrell BGHS
Apart from the many relaxing days, there were the usual outings- a highlight was a trip in a boat from Dunmore East, John Roche was the able skipper of the Misty Morning and the delights of the harbour were duly enjoyed.
Irish Derby Day was the first of July that year and Jackie was the star guest greeted there by the Taoiseach, Jack Lynch and his wife Maureen. Chief steward that day was Major Victor McCalmont (Mount Juliet).
Woodstown House was built for Sir Henry W. Barron, M.P. for Waterford, during the middle years of the 19th century on an estate of 240 acres. It was later sold to John Hearne, the Waterford builders and has had a variety of owners since including Roger Shipsey. Woodstown is also associated at this time with Richard
Profumo
, brother of British war Minister, John, who took refuge at Ballyglan House nearby, during the Christine Keeler scandal that rocked the Westminster Government.
One final memory of John-John is that of Waterford Crystal workers who recall this six year old wielding his camera with interest and dexterity to capture the seemingly magical craft of glassblowing. This is the boy who is so affectionately remembered by all who met him, who became the young man who charmed America, who like his father died in his prime and who may well have followed his father to the White House.
An ironic coincidence is that his ill-fated plane was a
Piper Saratoga
. The Woodstown hostelry's name was in turn named after Saratoga Springs, upstate New York. It was so named by a retired parish priest (Fr. Fleming) who had spent a lifetime ministering there who settled in Woodstown with his sisters in his retirement. It's a small world surely and diminished further by the death of this fine young man.
I wish to sincerely thank Joe for passing along his work for me to reproduce here.  Joe's piece originally featured in the Munster Express on July 30th, 1999.  I'd also like to thank the many responses to my request for photographs.  I also received a number of anecdotes of the visit which I hope to combine into a subsequent account.  Any others that people would like to share, I would be happy to add them. If you would like to contribute a piece to any of my guest blog Friday's (last Friday of each month) please get in touch to russianside@gmail.com.  All I ask is that the subject matter be linked in some way to the maritime heritage of the area, and 1200 words approx.
If you would like more information here's a podcast of the story called "Beauty and the Beach" by Elaine Power and Nicola Beresford.  https://www.spreaker.com/user/9726109/beauty-and-the-beach
I publish a blog about Waterford harbours maritime heritage each Friday.
To subscribe to get it to your inbox email tidesntales@gmail.com
My Facebook and Twitter pages chronical the daily happenings in our beautiful harbour:
F https://www.facebook.com/whtidesntales  T https://twitter.com/tidesntales
My book on growing up in a fishing village is now published.
Details of online purchases, local stockists or ebook store available 
here