I was often chided for my romantic notions of the Cheekpoint name deriving from the fairy folk, the Sidhe. However in recent months strong, albeit circumstantial, evidence is coming to the surface that those of us with romantic notions may not be totally without support.
I wrote previously about the place name of
Cheekpoint
. To reprise it now, there are those with a geographic bent, who consider it the point of the streaks, referring to the currents and eddies created as the three rivers flow over the rock that is to this day know as the Sheag rock. Whilst others like myself are inclined towards the Point of the
Sidhe or fairies
.
Now the evidence for the fairies was always circumstantial. Stories of fairy folk were legion in the community that I was reared in, fairy rings still exist, and few but the foolish or unwary would interfere with them. When fishing at night I was warned about particular gaps on the Russianside lane, that I was best to hurry past and certainly not stop if any voices tried to engage me. Of course the most magical event I have ever seen is the
Sí Gaoith
, an occurrence I have witnessed several times, by the most exciting and spectacular with my son Joel while fishing in the late 1990's.
I had also mentioned the fabled
Cesair
, and it is to her that I now return. Now Cesair has as many versions of her life (and spelling of her name) as there are internet links. Many interconnecting points are present however which boil down to a lady of immense courage who before the flood set sail in three ships, with three men and 150 women. They wandered the oceans until they arrived in Ireland and the three groups broke up and set to populating Ireland. Her band are referred to as the Sidhe, and over the millennia this has become tied into fairy folk and leprechauns. I'd linked the landing point of the Sidhe to Cheekpoint, although I'm sure many thought me misguided.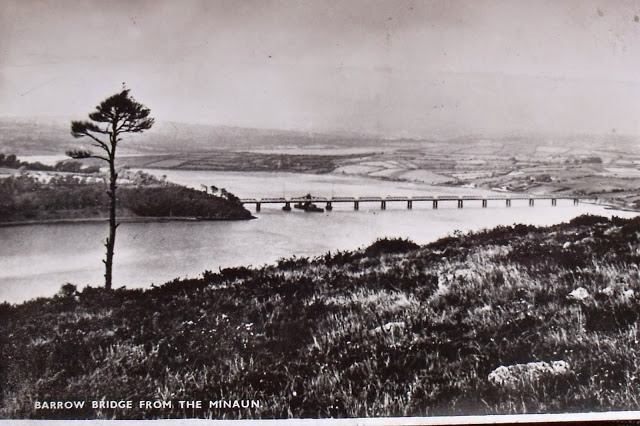 Meeting of the Three Sisters, from the Minaun, Drumdowney Kilkenny on the left opposite bank,
Great Island Co Wexford on the left
However last summer an academic gathering at Kilmokea, Great Island put weight behind this theory, albeit on the opposite bank. As foundation myths go, the location is very plausible, strategically placed with abundant access via the three sister rivers to the hinterland of the SE.
What for me is a related argument in any foundation myth is evidence of early settlement in an area. Evidence already exists of the oldest known settlement in the South East being at
Ballylough beside Belle Lake
on the road to Dunmore East. Destroyed promontory forts such as at Dunmore also confirm early settlement, although of a later era. Again more evidence is emerging, this time due to the efforts of the redoubtable
Noel McDonagh
at Creaden Head near the mouth of the harbour.
I'm conducting a free guided walk this coming Bank Holiday Monday from Cheekpoint quay, departing at 5pm. Its 2km, over rough ground and will concentrate on the villages maritime heritage. We will arrive back at 6.30pm. Details on my
facebook event page
For a flavour of the walk, here's a piece from Mark at Waterford Epic Locations depicting our Bank Holiday walk Easter 2017 along the Faithlegg Marsh. If you haven't seen Marks page already treat yourself, what a stunning area Waterford is! And don't forget to like and subscribe for more of Marks great video content https://www.youtube.com/watch?v=ReHpt3u_ZM0&t=9s
I publish a blog about Waterford Harbours maritime heritage each Friday.
To subscribe to get it to your inbox email russianside@gmail.com
For daily events/updates https://www.facebook.com/whtidesntales https://twitter.com/tidesntales