TF Meagher image via
http://www.1848tricolour.com/
Catherine was eventually reunited with her husband in New York, but she returned to Waterford where a second son, Thomas, was born. She was a popular advocate for her husband's political activities and was in much demand for rallies and other speaking events. Poor health followed however, and Catherine died in Waterford in 1854 and was buried in the family tomb at Faithlegg. This is the second grave, and the one most commonly associated with him in Ireland.
Meagher tomb in Faithlegg
On 1st July 1867 while travelling on the Missouri river by paddle boat, Meagher disappeared over the side of the ship. The cause of his fall is a matter of intense speculation even to this day.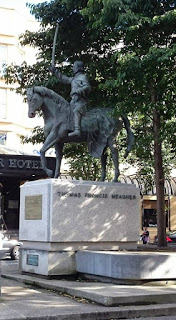 No grave, but remembered nonetheless