In our first guest blog 2018, Brendan Grogan brings us this wonderful summary of the life and maritime career of Captain Richard Farrell. Captain Farrell, as I always heard him referred to, was highly respected in his role as Harbour Master, but then again having seen it all and done it all as a seafarer he had a unique perspective on what it takes to run a port safely and efficiently.
Captain Richard Farrell became Waterford Harbour Master in 1941 at the age of 44 on the retirement of his uncle, Walter J. Farrell who had held the position since 1903. He was the youngest child of eight children and only son of Richard Farrell (1869 – 1939), a shipbroker in Waterford. His first wife Frances Harbison whom he married in 1919 was a nurse, she died in 1953. In 1963 he married Maeve Kenny and they lived at 'Trade Winds' on John's Hill. Maeve passed away in 2017 in her 104th year.
He was the only surviving Irish man to hold a Master's Foreign Seagoing Certificate ticket for both Sail and Steam when he passed away in 1993 aged 94. He had sailed the world's oceans on many ships between 1913 and 1941, namely:-
S.S. Medic, Steamer, 1913-1915 as Deck boy.
S.S. Jordanhill, four masted Barque, 1915-1917 as Able Seaman
S.S. Killoran, four masted Barque, 1918-1919 as 2nd Mate
S.S. Zaydo, 3 masted Barquentine, for nine months, as 2nd Mate
S.S. Largo Law, Steamer, 1920-1927, as 2nd Mate and 1st Mate
S.S. Gogovale, Steamer, 1928-1941, as 1st Mate and Master 1930-1941
At the age of sixteen his uncle Walter secured a berth for Richard on the Harland & Wolff built steamship, White Star Liner S.S. Medic, out of Liverpool on which he served for a year and a half. His seafaring life had begun……
In an interview with Tom McSweeney for Seascapes, Captain Farrell at age 95 gave chilling accounts of his voyages around Cape Horn in four masted Barques and also of his involvement landing the Munster Fusiliers at Suvla Bay during WW1.
Some excerpts from his log from 1915……
I had a mind to join a sailing ship and secured a berth as Ordinary Seaman on the S.S. Jordanhill, a steel sailing vessel built in 1892. This four masted square rigged barque was to be my home for this my first voyage around the world and so on 22nd of August 1915, the S.S. Jordanhill sailed for Port Arthur, Texas where we were to load case oil for Adelaide in South Australia. The ship was laden with 1,000 tons of clay ballast to provide stability for the voyage across the South Atlantic Ocean which lasted 42 days.
On arrival at Port Arthur, the ballast was removed; this exercise took three weeks. The ship was then towed to the oil berth to commence loading the cargo of cased paraffin oil which was destined for the gold mining areas of South Australia such as Kalgoorlie and Coolgardie.
The route from Port Arthur took the ship south out of the Gulf of Mexico towards the Equator and onwards east around the Horn of Africa. After one hundred and forty eventful days at sea, the Jordanhill arrived at Adelaide, Australia on the 10th of June 1916. After the cargo was discharged, clay ballast was again taken on for the next leg of the voyage. It took ten days to sail to Melbourne where the ship was to take on a cargo of wheat and then head east round Cape Horn and head for home. The ballast was again unloaded and a full cargo of wheat in bags was loaded to the Jordanhill. She was again down to her plimsoll marks.
We were towed out to Hobson's Bay the 10th August 1916 with instructions to head for Falmouth for further orders. On the 1st November, 83 days out, one of the hands working on the main royal yard sighted a steamer coming up from astern. It was my watch on deck and we were told to get the lifeboat ready for putting over the side. When the steamer got near, the Captain ordered the signal 'we are short of provisions' to be hoisted. The steamer was the S.S. Alkaid of Rotterdam bound from Rosario with grain for her home port. She hove near us and the 2ndmate, three others and myself manned the boat and set out towards the ship. The 2nd mate informed the Captain of the Alkaid of the items that we were in short supply of. We made two trips back and forth with bags of coal, sacks of flour and other provisions including a small keg of claret and cigars for Captain Roberts. The Captain of the Alkaid allowed us on board for a drink. I did not drink at the time but the temptation was too great and I in common with the others got a very liberal tot of schnapps. After thanking the Captain again, we all went on board our own boat again. Our boat was full up with sacks of coal and flour and going down the rope ladder I felt very elated, not being used to liquor. I stepped on to the bags, staggered and fell over the side much to the amusement of the Dutchmen looking over the steamer's rail. The others pulled me in again quickly as sharks abounded in those waters. Later the Old Man (Captain Roberts) called all hands aft and gave them a small glass of the claret. He and the officers were smoking cigars for the next few days.
At about seven p.m. one evening, the wind shifted to the North West in a heavy squall. It continued to blow a whole gale and the sea became very confused. She shopped one heavy sea forward and stove in the forward deck house which was made from teak and the same sea caught a young Dane name Hansen and before he could grab the lifeline he was taken overboard and never seen again. He was only twenty-one years of age.
We soon picked up the North East Trades and set everything, royals, flying jib, staysails, spanker and gaff topsail, sailing 'full and bye', that is about half point or so from the wind. This was really exhilarating, sailing with the Jordanhill leaning over like a yacht with all sails drawing and doing about ten knots.
S.S. Jordan hill, steel barque, built 1892 by Russell & Co., Glasgow, 2291 GRT.
Getting nearer the English Channel, we were getting a bit anxious about German submarines, as when leaving Melbourne, we had heard that they were getting very active. We had no means of knowing how the war was going. On 23rd of December we sighted the Lizard Light in Cornwall. We ran up our numbers and reported to the Light House. They signalled back 'You are to proceed to Le Havre, your cargo is for the French Government'. On Christmas Eve, we sighted the Casquets Light on the French coast. At daylight, a French destroyer came close to us and threw us some French papers. On Christmas Day we were tacking very hard every four hours, next day we had lost sight of land but picked it up again in the morning under short sail. On the 28th December, a light cruiser (D19) took us in tow using a brand new 3 1/2inch hawser. She was indeed powerful and we were towing at about ten knots and everything held. When we got into Le Havre the cruiser let us go and we dropped anchor. The following day we were taken to our berth after 141 days at sea. The whole voyage had taken some seventeen months.
Richard Farrell, 2nd mate S.S. Killoran 1918, age 21 yrs.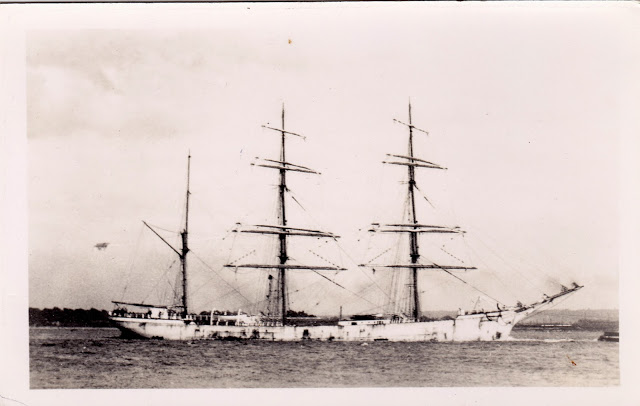 S.S. Killoran, built 1900 at Ailsa Shipbuilding,Troon.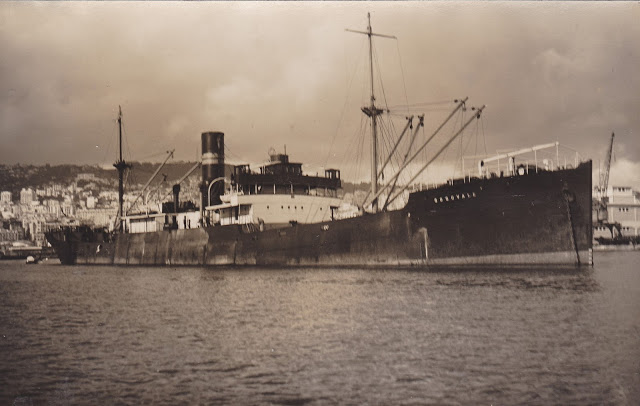 S.S. Gogovale, built 1927, 4586 GRT, anchored off Algiers 1935.
Captain Richard Farrell, Master S.S. Gogovale
Regatta Day Waterford c.1963. Captain Richard Farrell & wife Maeve, with Grogan family.
L-r. Paddy Hearne, Michael Walsh, Pat Rogers, Willie Walsh, Captain Farrell, John Walsh and Willie Hearne. The occasion is the retirement of Captain Farrell and a presentation by the river pilots of a piece of Waterford Crystal.
Photo via Trish Last Cluney originally featured in the Munster Express Friday 8th Aug 1975.
I'd like to thank Brendan for sharing this amazing written and pictorial account of the life of Captain Farrell. Our next guest blog will feature a maritime story from Tony Hennessey. If you would like to contribute a guest blog, which is published on the last Friday of each month, please get in touch by email to russianside@gmail.com.
References:-
Tom McSweeny's book, Seascapes . http://lugnad.ie/book-reviews/book-seascapes/
Previous blog on Walter J. Farrell http://russianside.blogspot.ie/2017/03/walter-j-farrell.html

I publish a maritime blog about Waterford harbours maritime heritage each Friday.
To subscribe to get it to your inbox email me russianside@gmail.com

My Facebook and Twitter pages chronical the daily happenings in our beautiful harbour:
F https://www.facebook.com/whtidesntales T https://twitter.com/tidesntales