Introduction
The sinking of the RMS Titanic is a world renowned event. I was reared on the story either from local storytelling or the movie "A Night to Remember". But it was only in recent years I even thought to research a local connection, when I came across a bronze memorial in Bunmahon to a man named Dwan who perished aboard. This coming Monday 15th, Waterford Civic Trust will honour another man who was aboard. His name was Patrick O'Keeffe, a passenger who not just survived, but also ensured several others were saved too.
The Titanic.
Titanic was built by the Harland and Wolff shipyard in Belfast for the White Star Line. She departed Southampton on her maiden voyage on 10th April 1912 calling to Cherbourg in France and Queenstown (now Cobh) in Cork before crossing the Atlantic towards New York. At 11.40pm on the night of the 14th April (about 375 miles south of Newfoundland), she hit an iceberg. The "unsinkable" Titanic sank in a matter of hours. Of the estimated 2,224 passengers and crew aboard, more than 1,500 died.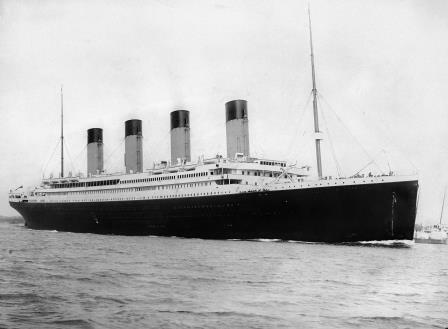 Patrick was born at Little Michael Street in Waterford City on 11th July 1890 to John O'Keeffe (a quarry labourer) and Catherine Fitzgerald Patrick was one of 9 known children. Patrick had returned to Ireland for a holiday, having first emigrated to USA in 1910 with his uncles.
Apparently homesick, he had returned home for a month's holiday in 1912 and had an earlier return sailing booked aboard the RMS Baltic; apparently his brother persuaded him to stay an extra week so they could spend Easter together as a family and his booking was transferred to Titanic.
He boarded the Titanic at Queenstown as a third class passenger (his ticket cost £7, 15s as did all the 3rd class steerage passengers listed below). As the ship sank Patrick managed to make it to the steerage decks and he jumped into the freezing seas. Thanks to being a strong swimmer, he kept himself afloat, eventually pulling himself aboard the capsized collapsible B life raft. He managed to rescue several others from the water and they were later picked up by the SS Carpathia and landed at New York. He was a number of weeks convalescing having sustained heavy bruising.
Patrick would go on to marry and have a family and worked for the rest of his life in America. The memory of the sinking stayed with him, so much so, that Patrick never returned to his native country again. He eventually died in 1939 and was buried in New York. For more information on the unveiling of the blue plaque follow the Facebook event link
Frank (Francis) Dwan was born in Clogheen, Co Waterford, at the height of the famine in January 1847. A fisherman by trade Dwan, in the 1911 census was living with his wife at Knockmahon, Co Waterford. Several of Frank's children lived in America and he decided to visit them in 1912, boarding the Titanic at Queenstown on a third class ticket. His destination was Morris Plains, New Jersey where his daughter Alice Murphy and son Michael and their families lived. He died in the sinking and his body, if recovered, was never identified.

A brass memorial at Bonmahon, on Waterfords Copper coast
Duncannon Co. Wexford crewman. George Francis "Paddy" McGough was born in Duncannon in 1875. He signed on to the Titanic as an AB (Able Seaman) at Southampton on 6th April 1912. He was plucked from the freezing waters by lifeboat #9 and took the tiller and steered the boat. On the SS Carpathia coming into view he was credited with saying "Let us pray to God, for there is a ship on the horizon and it's making for us." He went back to sea for the rest of his working life and died in 1940.
McElroy was living at Tullacanna (near Wellingtonbridge) in Co Wexford in the 1911 census but he was born in Liverpool and had spent his life at sea. He was put in charge of loading lifeboats as the ship went down. He was credited with keeping the loading in line and at one point discharged his pistol at two crew men who boarded a lifeboat and refused to make way. He went down with the ship, but his body was later recovered, identified and buried at sea.
Other Wexford folk
There were a few other Wexford souls aboard including Robert Mernagh, Passenger (28) from Ballyleigh, Ballywilliam, New Ross. Interestingly he was another who had returned on holidays and was heading back to America. He may have delayed his plans to travel, to await a relative from Bree Co Wexford; Elizabeth Doyle. Elizabeth was also returning to America, having come home to Ireland to nurse her ailing father. Both lost their lives. Another to die was crewman Laurence Doyle, fireman (27). Although his origins are unproven, he was thought to be from County Wexford. John O'Connor, Coal trimmer, Coolcotts, Wexford town, survived.
Conclusion
I was told recently there may be another passenger from Dungarvan and a crew man that hailed from the Dunmore East area originally. At the time of going to print I have not enough info to commit anything to paper but who knows in time we might enlarge the list. Incidentally there are two other connections that spring to mind. The staircase in Loftus Hall on the Hook peninsula was said to be built by the same craftsmen that built the staircase aboard the Titanic. The other is another unproven anecdote. But in Cheekpoint I was told as a child that the Belfast shipyard that built the Titanic, actually considered locating in Waterford in the late 19th C based on the local skills base, and had surveyed a site in Cheekpoint near the Sheag Rock. Had that come to pass, perhaps the Titanic might have been built in Waterford! Unproven, by the author, as yet!
Hello, I'm Andrew Doherty. I've written a blog each Friday now since May 2014. Tides and Tales is completely self financed and done in my spare time. If you would like to subscribe to get it to your email each week, contact me at tidesntales@gmail.com Hope you have a great day